Previous Exhibitions — Index
YOUNG GAINSBOROUGH: REDISCOVERED LANDSCAPE DRAWINGS
1 October 2021 – 13 February 2022

Twenty-five newly attributed Thomas Gainsborough drawings are on public display for the first time in this major exhibition at York Art Gallery. Find out more here.
GRAYSON PERRY: THE PRE-THERAPY YEARS
28 May – 5 September 2021
The touring exhibition, developed by the Holburne Museum in Bath, is the first to celebrate Grayson Perry's earliest forays into the art world and re-introduces the explosive and creative works he made between 1982 and 1994. Find out more here.
AESTHETICA ART PRIZE 2021
28 May – 5 September 2021
The Aesthetica Art Prize is an annual exhibition that invites you to explore, discover and engage with new ideas. The works on display are unearthing the intricate layers of what it means to be alive today. Life was complicated before Covid-19, but the pandemic has placed a new set of strains and challenges on society. Find out more here
HUMAN NATURE
21 October 2020 – 9 May 2021
Jointly curated by York Mediale and York Museums Trust, visitors discovered how the human body is hardwired, synchronised and inextricably linked to nature. Find out more here.

FUTURE GREATS: AESTHETICA ART PRIZE 2020
March 2020 – February 2021
The Aesthetica Art Prize is a celebration of works that redefine the parameters of contemporary art. The annual prize, now in its 13th year, provides a platform for both established and emerging practitioners from across the world, supporting and enhancing their careers through £6000 prize money, exhibition, publication and talent development. Find out more here.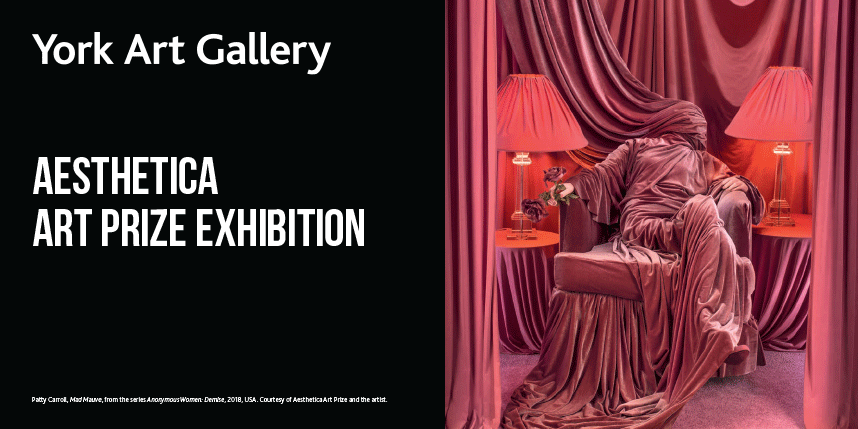 VIEWS OF YORK AND YORKSHIRE
20 August – 27 September 2020
Artists such as L.S. Lowry, Letitia Marion Hamilton and John Piper presented contrasting views of the heart of the city, while newly conserved prints of York Minster dating from the first half of the 19th century were displayed for the first time, revealing shifting perspectives of the cathedral. Find out more here.

YOUR ART GALLERY: PAINTINGS CHOSEN BY YOU
20 August – 27 September 2020
From Barbara Hepworth to Albert Moore, Paul Nash to Bridget Riley, Your Art Gallery – Paintings Chosen by You showcased a selection of works from the Gallery's rich collection of paintings, voted for by the public, alongside further works chosen through Twitter polls. Find out more here.

HARLAND MILLER: YORK SO GOOD THEY NAMED ONCE
14 February – 31 May 2020
Harland Miller: York, So Good They Named It Once featured some of Miller's best-known works alongside new paintings created especially for the exhibition.
These included his renowned 'Penguin Book Covers', inspired by the dust jackets of volumes from the 1950s and 1960s, and the 'Pelican Bad Weather Paintings' which evoke the culture and geography of Yorkshire as a whole.
The displays included more than thirty works shown over three galleries and explored Miller's formative years growing up in Yorkshire in the 1970s, which he cites as key to his artistic development. Find out more here.

GILLIAN LOWNDES: AT THE EDGE
23 November 2019 – May 2020
From the 1970s onwards, artist Gillian Lowndes was at the forefront of a new style of contemporary ceramics which explored the materiality of clay. Her abstract expressionist way of working brought together a range of materials and found objects which she recycled to create new sculptural work she called collages. Find out more here.

COAST TO COAST
26 July 2019 – 26 February 2020
Coast to Coast took visitors on a voyage through the history of sea paintings from the Dutch Golden Age spanning the 17th century, through 18th century Romantic paintings with stormy settings and atmospheric skies, up to the modern interpretations of the 20th century.

MAKING A MASTERPIECE: BOUTS AND BEYOND (1450-2020)
October 11 2019 – January 26 2020
The imagination, science and sublime skill behind the creation of an iconic artwork was the focus of a major exhibition at York Art Gallery.
The exhibition took its inspiration from an important late fifteenth-century painting by the Dieric Bouts workshop, Saint Luke Drawing the Virgin and Child, on loan from The Bowes Museum and saved for the nation in 2016 following an export ban.

LUCIE RIE: CERAMICS AND BUTTONS
22 June 2018 – 3 November 2019
As one of the most respected potters of the 20th century, Dame Lucie Rie (1902-1995) was known for her finely thrown and beautifully decorated functional domestic ceramics.
She emigrated to the UK during the Second World War and began producing ceramic buttons for the fashion industry, after spotting a gap in the market as many British button factories had been requisitioned for the War effort.
This exhibition at the Centre of Ceramic Art (CoCA), York Art Gallery highlights this less well known area of her practice, displaying hundreds of her beautiful buttons alongside many examples of domestic wares she became celebrated for.

THE NATIONAL GALLERY MASTERPIECE TOUR 2019
13 July – 22 September 2019
Nicolas Poussin's The Triumph of Pan, one of the National Gallery's most significant works, will be the centrepiece of a new exhibition at York Art Gallery this summer.
The work depicts a mythical celebration of nymphs and satyrs revelling before a statue of Pan, Greek god of the wild. Works from York Art Gallery's collections will complement the painting, exploring the themes within the work and Poussin's significant influence on generations of other artists.
SOUNDS LIKE HER – Gender, sound art and sonic cultures
July 13 – September 15
Woman artists from culturally diverse backgrounds explore sound as a subject and a medium in a ground-breaking exhibition.
Curated by Christine Eyene, known for her enquiry into feminist art and her research on sound art from an African perspective – Sounds Like Her sets out to broaden existing approaches to sound art and challenge the Eurocentric and patriarchal frameworks that have informed the discourse on sound art practice and continue to dominate the mainstream today. Find out more here.

Aesthetica Art Prize Exhibition 2019
8 March – 14 July 2019
Hosted by Aesthetica Magazine, the Aesthetica Art Prize is an annual exhibition that invites audiences to explore, discover and engage with new ideas. Find out more.

Ruskin, Turner & The Storm Cloud: watercolours and Drawings
29 March – 23 June 2019
Our relationship with the environment and questions about mental health are explored through the watercolours and drawings of two of the most celebrated artists of the 19th Century in this major new exhibition.
To celebrate Ruskin's 200th birthday, 'Ruskin, Turner & the Storm Cloud: Watercolours and Drawings' considers the eloquent critical relationship John Ruskin (1819-1900) had with the landscapes of J M W Turner (1775-1851).
Through new research, it reveals Ruskin's response to Turner's vision, together with his own experience of close looking at weather patterns, mountains and the built environment. Find out more.

The Anthony Shaw Collection: Artist's Choice by Per Inge Bjørlo
February 2018 – March 2019
The Centre of Ceramic Art (CoCA) presents a re-display of the Anthony Shaw Space by Norwegian sculptor Per Inge Bjørlo with an emphasis on textiles and large sculpture. Find out more.

When All is Quiet: Kaiser Chiefs in Conversation With York Art Gallery
14 December 2018 – 10 March 2019
Kaiser Chiefs explore the boundaries between art and music in a unique and experimental exhibition. Using their position as pop musicians as a starting point, Kaiser Chiefs have chosen to rethink sound as a medium, inviting visitors to join them in exploring the edges between music, art, creation and performance. Find out more.
The BFG in Pictures
12 October 2018 – 24 February 2019
The BFG in Pictures is an exhibition from House of Illustration of original Quentin Blake illustrations prepared for Roald Dahl's classic story. Find out more.

Strata – Rock – Dust – Stars
28 September – 25 November 2018
Showcasing ground-breaking moving image, new media and interactive artwork, 'Strata – Rock – Dust – Stars' is inspired by William Smith's geological map of 1815, which transformed the way in which we understand the world. Find out more.
Aesthetica Art Prize Exhibition 2018
18 May – 30 September 2018
Hosted by Aesthetica Magazine, the Aesthetica Art Prize is a celebration of excellence in art from across the world offering emerging and established artists the opportunity to showcase their work to a wider audience. Find out more.

The Sea is the Limit
4 May – 2 September 2018
Thought provoking works of art exploring the current and ongoing issues of migration, dispossession and national borders were brought together in this exhibition featuring eleven international artists. Find out more.

70 Years of Giving Art
4 May – 2 September 2018
To celebrate their 70th year, members of 'Friends of York Art Gallery' chose their favourite works from the gallery's collections which were acquired or restored thanks to their financial support. Find out more.

Sara Radstone: More Than Words
17 November 2017 – 10 June 2018
The Centre of Ceramic Art (CoCA) presented a moving retrospective exhibition of work by British artist Sara Radstone (born 1955). Find out more.

Marinella Senatore: York Symphony
23 September 2017 – 7 May 2018
Through a series of workshops and conversations collecting individual stories in York, Italian artist Marinella Senatore created a new 'symphony' to celebrate the city's creative communities. Find out more.

Paul Nash & the Uncanny Landscape
20 October 2017 – 15 April 2018
Paul Nash's groundbreaking inter-war landscapes which transformed the genre of British landscape painting featured in the new exhibition 'Paul Nash & the Uncanny Landscape' curated by artist John Stezaker. Find out more.
Ceramics from the Attenborough Collection
28 July – 5 November 2017
York Art Gallery and the Centre of Ceramic Art (CoCA) were delighted to be able to display highlights from the Attenborough Collection of ceramics created by one of the world's most famous artists during the summer of 2017.

Albert Moore: Of Beauty & Aesthetics
7 April – 1 October 2017
York Art Gallery presented the first monographic exhibition of York born artist Albert Joseph Moore since the memorial exhibition in 1894, which featured an impressive selection of Moore's paintings, watercolours and sketches. Find out more.

Aesthetica Art Prize Exhibition
26 May – 10 September 2017
A platform for innovation and originality, the Aesthetica Art Prize Exhibition invites audiences to engage with captivating projects from some of today's leading artists, both established and emerging. Find out more.

Leisure Land Golf
3 June – 3 September 2017
Following a successful Art Happens campaign, York Art Gallery were able to bring Doug Fishbone's Leisure Land Golf to the Artists Garden in 2017 – a fully playable crazy golf course designed by internationally acclaimed artists. Find out more.

Manifest: 10,000 Hours
1 August 2015 – 4 June 2017
Working with volunteers from across the UK, artist Clare Twomey created an installation of 10,000 ceramic bowls. Each bowl took an hour to make and represented one of the 10,000 hours it is said to take to become a master craftsman. Find out more.

The Lumber Room
1 August 2015 – 7 May 2017
York-based Mark Hearld spent two years exploring the York Museums Trust collection, selecting his favourite pieces and creating his own artwork for this exhibition inspired by 'The Lumber Room', a short story by Saki. Find out more.
Flesh
23 September 2016 – 19 March 2017
Human and animal, alive and dead, familiar and strange; this major exhibition explored how artists represent flesh in their work, including Peter Paul Rubens, Edgar Degas, Circle of Rembrandt and Francis Bacon. Find out more.

Truth and Memory: British Art of the First World War
25 March – 4 September 2016
Working with the Imperial War Museums, this impressive display was the largest exhibition of First World War art for nearly 100 years featuring more than 60 artworks produced during the war and in its immediate aftermath. Find out more.

Art & Music
23 June – 31 December 2012
Using paintings and objects from York Art Gallery's outstanding collections, this exhibition celebrated music and its harmonious and historic relationship with visual art. Artists included Bridget Riley, Juriaan van Streek, and LS Lowry. Find out more.

Gordon Baldwin: Objects for a Landscape
11 February – 10 June 2012
Gordon Baldwin is a sculptural potter who has been very influential in moving ceramics towards sculptural forms and away from traditional functional pots. This touring exhibition showcased more than one hundred of Baldwin's works. Find out more.

Excitations
15 October 2011 – 31 December 2012
Excitations was an exhibition of ceramics from York Museums Trust's collections chosen by leading ceramicist Gordon Baldwin, who is internationally regarded as the UK's most distinguished living sculptural potter. Find out more.

William Etty: Art & Controversy
25 June 2011 – 22 January 2012
This major exhibition took a fresh look at the works of York-born artist William Etty and uncovered the reasons for his controversial reputation. It was the first comprehensive reassessment of his art for more than 50 years. Find out more.
David Hockney: Bigger Trees Near Water
12 February 2011 – 12 June 2011
The largest painting David Hockney has ever created went on show in York Art Gallery, for the first time outside London.
Bigger Trees Near Warter or/ou Peinture Sur Le Motif Pour Le Nouvel Age Post-Photograpique 2007, measuring 12m by 4.5m, is made up of 50 smaller canvasses of a landscape near the East Yorkshire village of Warter. Find out more here.