Families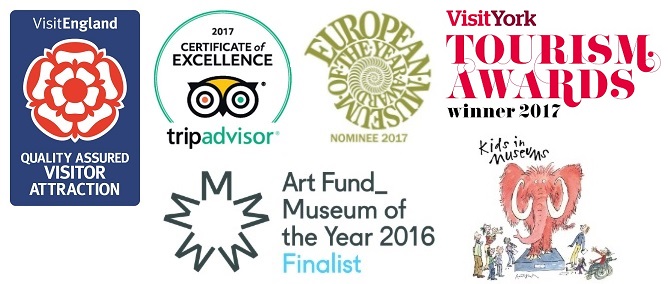 York Art Gallery is family-friendly and we aim to be as inclusive as possible.
There are activities, events and workshops available throughout the year. Please click on the links below for further information.
Activities to download, print and use on your visit;
Arts Heroes Fact Sheets
Help younger visitors to find out more about artists whose work is on display in the gallery, with activity suggestions to extend experience and research skills. Why not print out these sheets, bring them with you and use them on a family gallery visit? They can also be used in the classroom to support the delivery of Arts Award Discover, Explore or Bronze.
Sir Anthony van Dyck (please note there are currently no works by Sir Anthony van Dyck on display)
Explore York Art Gallery Worksheet
This activity, although developed to support schools delivering Arts Award Explore or Bronze, can be used by families on their visit to help younger visitors find out about what the gallery does as an arts organisation, enabling room to write and draw. Download it here.
Curious-Create-Colour-Explore
At York Art Gallery, we actively encourage curiosity, creativity and getting hands on. Pre-print any, or all of the below to use as part of your visit to get things started. Just try not to forget them-or your pencil! We suggest you also bring your colour pencils too if you have them. It's good to live life in colour. Unfortunately felt tips are discouraged as we have to take extra care of our collections, so pencils are preferred.
York Art Gallery colouring page
York Art Gallery how to fold a Zine instructions
York Art Gallery Colour Zine
York Art Gallery Black and White Zine
What else is there for you to do?
If you are unable to download/print pre visit resources, not to worry! We have brand new activity bags for sale. Our specially designed 'YAG Activity Bags' illustrated by Abi Hiskey contain; colour pencils, a drawing pencil, illustrated activity guide, YAG A5 sketchbook AND a magiscope. Families can take them around the gallery with them to complete the activities, and of course, get to keep them as a souvenir at the end! Families can purchase a 'YAG Activity Bag' from reception or our shop, priced at £7.50.
Why not try some drawing ideas at home before or after your visit? Here are some video tutorials by illustrator Abi Hiskey to get you started;
Facilities for Families
Fully accessible indoor and outdoor spaces (please find details here)
Online events listings so you can plan ahead
Baby changing facilities in the accessible toilets on both the ground and first floor
Spacious lockers for visitors to use on the first-floor
Click here for online Visitor Information.
The Studio
The Studio is a practical workshop space where you can get hands on with art materials under the gentle guidance of our trained staff. You can check whether the Studio will be open on any particular day on our Events page or by contacting us.
Education
We offer a variety of opportunities for Pre-School, Primary, Secondary and Further Education.
· Under 5s can explore our exhibitions and collections with our term-time Museum Monkey sessions. These sessions are currently on pause due to COVID-19 regulations.
· We offer school workshops designed for Early Years Foundation Stage, Key Stage One and Key Stage Two pupils – please click here for more information.
· We have free educational downloads available here designed for the Arts Award, though anyone is welcome to use them to enhance their visit.
York Art Gallery also host YARN (Yorkshire Art and Design Teachers Network) – click here for details.
Museum Monkeys
York Museums Trust provides a range of activities and events for children under 5 to help them engage with the collections and exhibitions. Sessions take place during term time at York Castle Museum, the Yorkshire Museum, or York Art Gallery.
Museum Baby (under two years old)
Special baby sessions linked to exhibitions, including songs and sensory activities for babies and their carers. Sessions are a mixture of free flow and adult led activities which all relate to the early years Curriculum. A perfect introduction to museums!
Early Years Explorers (two – five years old)
Activities for children aged two to five years old which include songs, stories, games and craft activities. Sessions are based on familiar preschool play areas, which are enhanced to help children learn about the museum' collections and exhibitions through play. Sessions are a mixture of free flow and adult led activities which all relate to the Early Years curriculum. Charges and advance booking apply. Please click here to visit our Events page for full listings.
Teen Takeover
We want everyone to feel welcome and inspired by the gallery. We offer opportunities for older children and teenagers to get involved and discover their creative abilities.
Older children with an interest in art will find plenty of opportunities to engage with our exhibitions and collections, from our Vanitas drawing unit to our digital interactives (currently closed due to COVID-19 regulations).
Teenage Art School – held annually during the summer, the art school offers young people aged 11 to 17 the chance to work with artists to create their own work and exhibition.
Kids in Museums Family Friendly Award 2016
York Art Gallery were awarded the Kids in Museums Family Friendly Award for 2016. Kids in Museums is an independent charity, working UK-wide to support museums to better welcome and include children, young people and families – in particular those who haven't visited before.
Dea Birkett, Creative Director of Kids in Museums, said:
"We're thrilled to announce York Art Gallery as the winner of the Family Friendly Museum Award. It was a tough year – with a ten-strong shortlist – so to shine out to families and children as the most welcoming is a great achievement.
"Our undercover family judges were particularly impressed at how the gallery aimed to make all ages feel welcome – from tiny babies to teenagers. There's no typical family, so museums need to include all of them, whatever ages, whatever sizes. York Art Gallery excels at this."