The Anthony Shaw Collection
Anthony Shaw has been collecting art for over 40 years and his collection is now on long term loan to York Museums Trust. He is particularly drawn to work that explores the sculptural and painterly qualities of clay.
In the first display of his collection in York, Shaw has selected a variety of work by an array of artists, including sculptural pieces by Gordon Baldwin and Ewen Henderson, figurative mixed media work by Kerry Jameson, and functional ceramics by Jim Malone.
Shaw has always felt that his collection is most at home in a domestic environment and he has worked with the ceramist Martin Smith to develop a domestic-style space in which to show his collection.
Taking the form of two rooms, Shaw places his objects on furniture, between books on shelves, in front of paintings and he invites visitors in to share the experience of living with a collection.
Please note that the space will be closed from 19 February to 1 March 2018 for re-display. Visitors can explore the new display from 2 March 2018.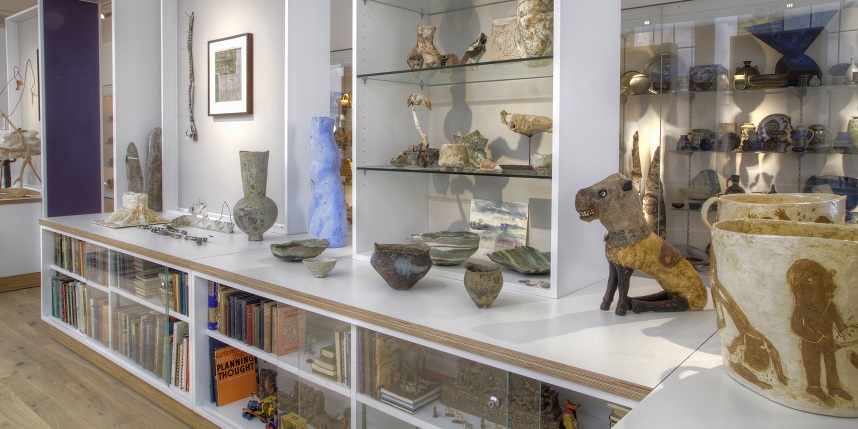 The Current Display
The Anthony Shaw Space was re-displayed by Tessa Peters (independent curator), opening to the public on Friday 18 November 2016.
Anthony said: "I had a dream and it came true. A private space set within a public one. I wanted the visitor to experience the great pleasure and joy of living with the objects that I have had, with as little between them and the works so they feel really 'with' the art, rather than onlookers. How they experience it is all important, sensing the 'felt' nature of the collection is vital.
"On my many trips to the gallery, meeting a great variety of visitor, there has been a very positive reaction to what we are trying to do. York Art Gallery have been very courageous in backing and allowing this form of display. In my dream, the closer we got to opening, I saw ropes across entrances, not allowing access within the space except for controlled and limited occasions. Having a marvellous team of volunteers has meant that it remains open to all, all of the time.
"The intention with my display was to give an idea of the whole collection and particularly the main artists. I am aware that for many this is the first time they will have come across a great deal of this work. With the main artists I have been very lucky in following them for much of their careers and having examples of their work over long periods.
"Having said before that the collection is 'painting in another form' there are many drawings and paintings by the main artists. Art is all important, rather than the medium, and I think it helps to explain the character of the artists, to display objects and 2D works together. As much as I love clay, it is the way it has brought this group of artists together that fascinates me.
"Our next display, curated by Tessa Peters, I expect will be very different. I learn most about the collection from the way others see it. I also learn when discussing it with visitors. Instinctively bought with a totally non-academic approach, for me the new work is very much a beginning, each time, leading me in directions that I do not control. All I sense is that there is much to search out. So I eagerly look forward to seeing Tessa's vision of the different characters and their work and how they fit together."
Tessa said: "The Anthony Shaw Collection, on long term loan to York Art Gallery, retains its special character as a collection responsive to innovation in the field of British ceramic art.
"In making my selection for the new display, I have therefore been able to include a number of Anthony Shaw's most recent acquisitions from Gordon Baldwin, Kerry Jameson, Nao Matsunaga and Sara Radstone, to name just a few, while considering their relationships to earlier works, both by the same artists and with those of other significant figures such as Ewen Henderson and Gillian Lowndes.
"When forming his collection Shaw has made no hierarchical distinction between art forms; for him matters of sensitivity to material and creative vision have clearly been paramount, so that paintings, sculptures, textiles and souvenirs will also be prominent features of the display.
"For me, it has been an enormous privilege to have been invited to work with such a major collection, and to have the chance to share so many fascinating discoveries."
Keep in Touch
Enter your email address to sign up to the York Museums Trust newsletter.