Albert Moore Fundraising Appeal
In 2017, York Art Gallery launched a campaign to bring home one of York artist Albert Moore's finest works, A Reverie. Unfortunately we were unsuccessful in raising the £3.6 million required to purchase the painting, but we would like to thank everyone who supported us.
For more information on supporting York Art Gallery, please click here.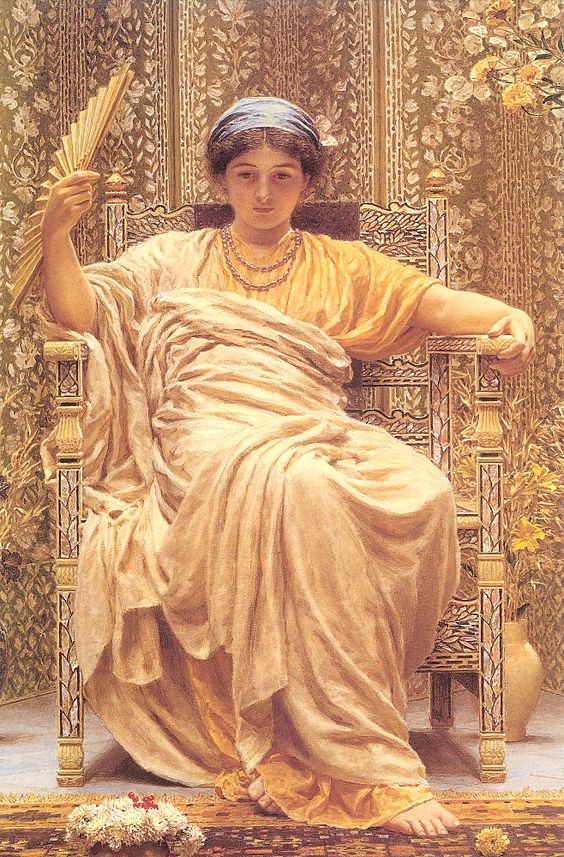 The Painting
A Reverie was painted by Moore in 1892 and was exhibited the same year. It was painted at a fascinating stage of Moore's later development and shows him at the height of his powers. The work depicts a young woman, relaxed in pose, deep in thought. She is draped in apricot and fawn and wears a double row of beads and a cap. Every means have been taken to create a light and airy setting. She sits in an Indian chair of carved ivory, elaborately inlaid with ebony and mother of pearl.
The foreground is dotted with vases or bowls of flowers, while the background is filled with a folded screen covered with a patterned fabric of Moore's own design. The work is lit with Moore's favourite top lighting, evidently achieved by placing a model under a skylight in the studio.
The blue and white ceramic pot on the far left was almost certainly in Moore's possession. Redolent of the Aesthetic Movement, it had in fact first appeared in his painting A Venus of 1869, which is owned by York Art Gallery. Its re-emergence more than 20 years later demonstrates the consistency of his ideas, while its cropped placement testifies to the increasing sophistication of his compositional sense.
Formal values are clearly paramount to Moore in the work, his feeling for pattern at its most pronounced and sophisticated. At the same time the picture seeks to evoke a mood in a way that earlier works have not.
A critic of The Times described the work as 'beautiful', adding:
"A Reverie is as might be expected from Mr Moore, the figure of a girl in a Greek dress, and thus far it does not differ essentially from scores of other pictures by him. But the extraordinary care which he has employed upon the details of the picture, upon the pearl-inlaid chair in which the girl is seated, upon the hangings and the floor, mark out the work as something exceptional. Few painters move within so narrow a range as Mr Albert Moore, but few also attain so much perfection within it."
The Artist
Albert Moore was born in York in 1841 as the youngest son of painter William Moore. He had 14 brothers and sisters, including two other well-known artists, Henry Moore and John Collingham; however Albert was considered the artistic genius of the family from an early age.
He received his earliest formal training at York School of Design before moving to London in 1855 where he received further training at Kensington Grammar School and the Royal Academy. His early works demonstrate the influence of Ruskin and the Pre- Raphaelites, as seen in his paintings of a woodcock and a goldfinch, the first works he exhibited in the Royal Academy in 1857 (Goldfinch is now in York Art Gallery and will be included in the exhibition).
However, inspired by neo-classicism and his extensive study of antique sculpture, including the Elgin Marbles, in the 1860s his work became influenced by Aesthetic principles. From the 1870s he exhibited regularly at The Grosvenor Gallery in London, alongside other aesthetic artists including Edward Burne-Jones and James McNeil Whistler.
He enjoyed much success; however, an influential group of more traditional painters in the higher regions of the Royal Academy considered his art threateningly progressive and Moore too independent and outspoken in his views.
He had also spoken disparagingly of a number of Academicians, and they waged a campaign to keep him out. The same thing happened to Moore's good friend Whistler. Moore's pictures thus were very well known at the time, but he never received formal recognition by the Academy.
The only monographic exhibition that was ever organised of Albert Moore's work took place at the Grafton Gallery in London just a few months after his death September 1893 In the obituaries and during this exhibition Moore was finally fully appreciated by critics and the general public.
However, the question arose whether the critics' praise was meant more as a protest against the Academy and its teachings than as a new understanding of Moore's work. After the exhibition this appreciation faded and since then Moore has been sparsely exhibited, usually only in conjunction with either family members or contemporaries, most recently in the exhibition A Victorian Obsession at Leighton House, London (14 November 2014 – 6 April 2015).