YARN – Teacher Network
Yorkshire Art & Design Teachers' Regional Network (YARN)
The Yorkshire Art and Design Teachers Network meet each half term at York Art Gallery. Teachers are welcome from all phases and meetings are an opportunity to share good practice, discuss joint and local initiatives and update on issues affecting art and art education. Bring your ideas, skills and colleagues for a professional and social networking opportunity.
For further information contact Maria Keki – maria_keki@yahoo.co.uk / 07504854684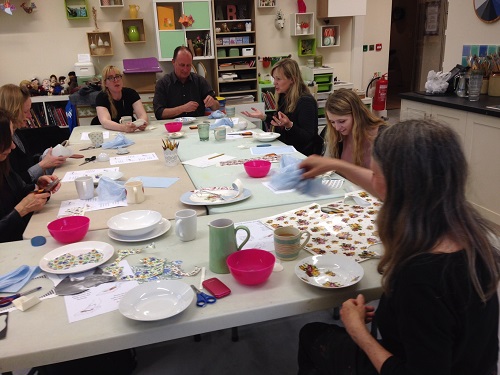 Meetings are held in the Studio learning room at York Art Gallery from 5pm to 7pm. Tea, coffee and biscuits on arrival. Please RSVP to maria_keki@yahoo.co.uk.
Each meeting provides:
an opportunity to consider important arts issues
support for arts & craft teaching
engagement with York's gallery and museum collections.
Some meetings will include a practical workshop element where teachers can develop new practical skills. Last year YARN meetings included workshops with painter Tom Woods and ceramic artist Beccy Ridsdel.
York Art Gallery CPD opportunity for KS 2, 3, 4 & 5 teachers. 
Learning Studio, Sunday 15th December, 11am-3:30pm approx.
Lunch/refreshments will be provided, as such please confirm your attendance and dietary needs via email to; Sarah.Yates@ymt.org.uk  (Creative Learning Producer, York Art Gallery)
Focus
From Pigment to Paint; Extracting Pigments from Rocks, Roots and Berries…KS 4 & 5 (STEAM)
In response to the exhibition Bouts and Beyond NEW for 2019/2020
Secondary School Workshop Programme
From Pigment to Paint; Extracting Pigments from Rocks, Roots and Berries (KS 4 & 5) suggested 2-3 hours Groups of 15 approx.
From today's contemporary artists to the earliest cave paintings, natural and synthetic materials have been used to make paint. Aborigines saw pigments as living forces, travelling 1000 miles to collect a particular red ochre – the journey and the act of grinding were preparation for the making. In the 12 century making paint would have been part of normal workshop practice.
Discover through this hands on workshop, how the effective combination of complex ingredients is both an art and a science in the production of pigments from raw materials. Explore the range of techniques which oil painting allows through an in-depth exploration of how pigments move to paints, referencing key works on display at York Art Gallery to support practical activity.
Potential for adaptation for lower Key stages-Secondary and Primary teachers welcome!